Winter is coming and with it… snow! We want to tell you four reasons that you should get ahead of the next major snowfall by hiring a professional snow removal company. Here's a hint: professional snow removal will increase safety, save you money and give you peace of mind.
#1 Employee and Customer Safety
The number one reason you should hire a professional to remove snow and ice is to protect everyone who may need to use your parking lot or walkways. Every winter, thousands of Albertans get injured from slipping on ice. In most cases, the person who slipped may be able to stand up and walk away with some bruises or scrapes. However, some falls result in far more serious injuries, like broken bones or concussions.
Not only that, but many businesses lean on their employees to shovel the snow. That takes employees away from their work for the day and, more importantly, this increases the likelihood of workplace injuries.
As a business owner, you have a responsibility to do anything in your power to protect your employees and customers. Hire a professional to keep everyone safe.
#2 Don't Lose Business
Even on a really snowy day, you need to make sure your business is accessible & reliable. If one of your customers braves a harsh winter day to visit your business, make sure they arrive somewhere that feels safe and has clear parking spaces.
Failure to provide a safe place to visit can lose business, fast. Customers don't want to deal with additional hassles. These inconveniences, such as an icy parking lot, tend to get spread by word of mouth and could lose you prospective clients.
Your employees are also more likely to brave the cold weather to attend their shift if the journey is more pleasant.
Do yourself a favour: make snow and ice are removed promptly from your clients' access points.
#3 Avoid Major Costs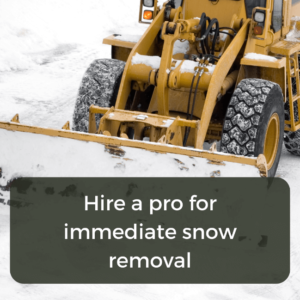 Yes, hiring a professional snow removal company comes with a cost, but it's far more affordable than if something goes majorly wrong.
It's very likely that your municipal government has snow removal bylaws in place. These bylaws outline hefty fines for a business' failure to clear sidewalks of snow. In Edmonton, your business could be fined hundreds of dollars for neglecting to shovel a sidewalk or pushing snow onto a road or walkway.
There's also the possibility that someone gets injured outside your storefront and tries to take you to court. An injury lawyer will lean on municipal bylaws to try to prove that the injury was a result of negligence.
Protect your reputation and your profits by making sure all snow and ice are cleared within 48 hours.
#4 Peace of Mind
Give yourself peace of mind by hiring a professional to take care of your snow removal. Running a successful business requires a lot of time and energy; don't waste that on coordinating snow removal.
Earth and Turf Landscaping can help commercial businesses with snow removal! Get your quote today!